Stunning HDR photo processing custom-built for real-estate
Full-depth HDR panoramas
Your 16 stops, 108 photos panoramas are automatically stitched in a breeze
A uniquely designed single property website
We give you the best looking interactive platform that puts your photography business in the spotlight.
See live demo
How does the billing work?
Including:
Up to 40
HDR photos

1 HDR
pano

1 Single
Property Website

No monthly
fees

High-resolution
image output

Dedicated
technical support

Darkroom Pro
software
Billing is monthly-based.
At the end of the month, you will receive an invoice based on your consumption.
Pay for what you picked.
You can develop as many photos and panos as you want, you will see them with watermarks at no charge. You will be billed only for the ones you pick.
30 days to pay.
You can pay via your PayPal account or with a credit card by logging in to your Exposio account.
Individual tarification
Photo
Pano
Property website
1 credit
5 credits
10 credits
Credit price$0,99

Contact us, we have deals for you:

sales@exposiohdr.fr US: 807 738-2365 | Canada: 418 907-9526

Volume discount

Server-to-server integration

Admin tools for teams

Darkroom PRO customization
Now get your photo gear and get ready.
Streamline your HDR Panos and Photos Development.

The Darkroom PRO is more than a software. It's a cloud-based HDR photo engine that can process a full load of HDR photos and panos altogether. So at the end of a long day of shootings, just plug your Trigger in your computer and the Darkroom PRO will get to work.

Learn about the Darkroom PRO
Upgrade your business offer.
Exposio HDR photos and panos allow you to increase your business offer and can give you an edge over the competition. To help you promote these new products to your existing client base at no cost, we give you one free month upon signing up.
Get better margins.
HDR photos and panos are a good way to increase your rates due to the work involved and the end-result quality. With Exposio, you'll save time and money, therefore increase your profit margins.
Grow your customer base.
With Exposio, you will achieve fast turnaround time, offer outstanding products and get a competitive edge over traditional photography. We build long-term relationships with our clients and if you are not satisfied we'll give you a refund within 30 days after the purchase date.
Millions of photos developed
for hundreds of clients and partners.
Join us now
The best in the industry!
- Comfree
It's an awesome product and I never regret buying it.
- Kliché Studio
I was really impressed with the results!
- Take 1 Video Creation
Saves on lighting equipment, saves time and money in post-processing.
- D-Tour
Exposio Trigger is absolutely mind-blowing!
- Dragon Fly Imaging
These turned out GREAT! They are about 4000 times better. Thank you!
- Virtual Tour Denver
I like the labeling of rooms with the Trigger and how simple it is.
- Metamorphic Production
Users Gallery
Hover over the Exposio photos to see their standard counterpart!
More photos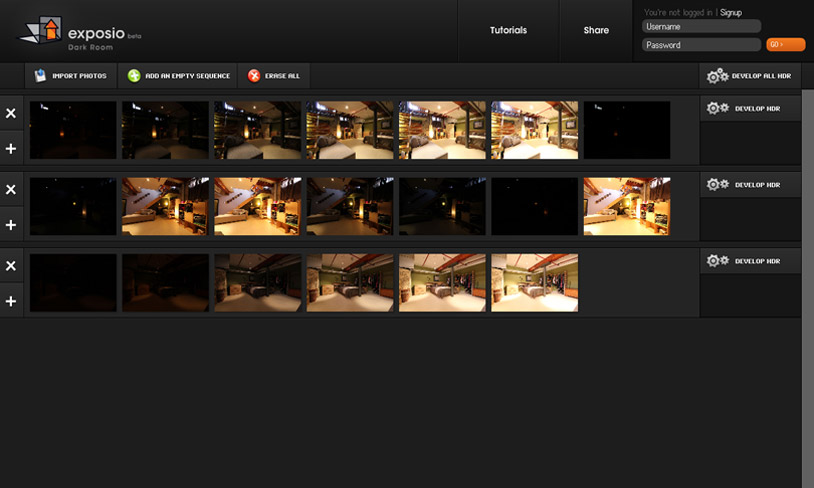 Darkroom
Online
This online solution gives you access to a web-based environment to let you experiment with our HDR photo development engine. Beware, it is more limited and slower than our desktop Darkroom PRO software.
Go to the Darkroom Online